Fit Your Space with Stunning Wood Look Tile in Chandler, AZ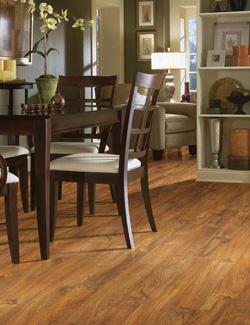 Do away with tired, worn flooring when you redress your interior space with one of the leading-edge decorating options from Flooring America of Chandler. Every interior space has a unique purpose and a series of challenges that homeowners and designers must address with each remodeling project. Rooms that experience high levels of moisture aren't well-suited for traditional hardwood, but they're an ideal choice for wood look tile in Chandler, AZ.
Choosing the Right Tile for Your Space
Natural hardwood is an ideal choice for dining rooms and dens, but this type of floor covering will contract and expand if it's exposed to moisture. Fortunately, we carry a wide variety of flooring materials that look like hardwood but are better suited for rooms that are moisture-prone. In particular, we have a wide variety of ceramic and porcelain tiles that are made to look like wood, but hold up better in kitchens, bathrooms, and mudrooms.
Offering Various Look-Alike Materials
Our showroom is your source for wood flooring and resilient tile floors of every grain and stain you can imagine. Our wood-look choices available in several different variations, including:
Ceramic Wood Tile
Porcelain Wood Tile
Wood Plank Ceramic Tile
Wood Plank Porcelain Tile
Our installation crew has the skills and tools to cut your ceramic wood tile or position your wood plank ceramic tile to fit any number of patterns. Porcelain is a unique, dense type of tile that offers notable water resistance. Whether covering a floor or wall, tiles made of porcelain are sure to hold up to water, steam, and other sources of humidity.
Enjoy the Look of Hardwood in Unconventional Spaces
Thanks to its resilient nature, our wood look tile and other look-alike floors are sure to stand up strong to regular wear and tear, even in moisture-prone spaces where traditional hardwood isn't well-suited. When you choose one of our convincing looking alternatives, you won't have to worry about how your wood-look flooring will fare in your bathroom, basement, or kitchen. Share your project details with one of our dedicated specialists and we'll help you find a highly desirable selection that sure to complement your desired space incredibly well.
Trust your installation needs to a team that has the training and tools necessary to place your new wood look tile perfectly. Count on us to get the job done right the first time. Rest assured that when you call on our installation crew to lay your new flooring in place, we'll work carefully, making sure to treat your new materials and your existing interior with the utmost care. Your result will be a stylish new floor that's equally attractive and functional.

Contact our showroom to find the ideal wood-look tile flooring for your remodeling project. We proudly serve homeowners in Chandler, Phoenix, Tempe, Gilbert, Ahwatukee, and the surrounding areas.