Tile Flooring in Chandler, AZ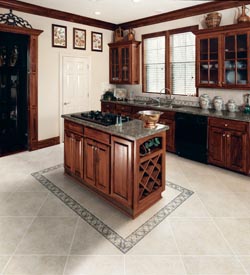 Update the look of your home's interior with new tile flooring in Chandler, AZ. We provide you with a fast and affordable way to improve the atmosphere of your residence. With our company's tile flooring, you can add a new, durable surface to your home that perfectly matches your sense of style.
From sleek and modern, to rich and classic, we offer a wide selection of floor tiles that won't disappoint. With designs from high-quality brands such as Design Distinctions™ and FloorCraft™, you can choose from options like ceramic floor tiles and even porcelain floor tiles. The great thing about designer tile flooring is that it is crafted in a manner to retain its beautiful appearance for years.
Beautiful & Resilient Tile
When you decide to redecorate or remodel your home, we recommend that you start with the flooring. The right floor coverings will create a fresh look and feel for your home's interior, and you can't go wrong with a tile floor. Tile flooring truly is a classic in every sense of the word. It is found in ruins of buildings that are 2,000 years old and older, and some of it is in excellent condition. We can help make your residence both modern and classic by covering its floors with tile.
Tile Flooring Selection That Guarantees Satisfaction
When investing in something like flooring, you want to make sure that you are completely confident in your decision. At our flooring company, we understand that no homeowner wants to feel limited in a lasting choice like tile flooring. With an extensive selection of tiles, including materials like ceramic and porcelain, you can count on us to make sure that your every need is satisfied.
By backing our products with wear, fade, and stain warranties that can last up to 25 years, you can't go wrong! We offer a vast collection with unique options, including:
Tile Size
Tile Shape
Tile Color
Tile Texture
Affordable Tile Flooring
Flooring can be expensive. However, our marketing model makes flooring as affordable as possible for our customers. With the impressive buying power of our company, you are sure to get your tile floors for a reasonable price you can appreciate.
With an extensive network of locally owned flooring stores, we can offer some of the lowest prices on some of the most trusted types of tile flooring. If you are in the market for new tile floors, stop our local showroom today so that one of our professional associates can help educate you about our many options and low prices on flooring solutions for any room in your home.
Convenient Tile Flooring Installation
Our commitment to helping you doesn't end after you've selected your tile. We offer professional tile flooring installation as a part of our comprehensive flooring services.
You invested in tile that is beautiful and flawless, and no doubt, you want it to look that way from the moment it's laid down in your house. We have all of the mortar, grout, and special tools that are needed to perform complete tile flooring installation.
Even though the tile we sell is beautiful and durable, it can be damaged if it is dropped. As such, we carefully handle and place each piece of tile to prevent chips, cracks, and scarring. Your floor has a clean and polished look after the attention to detail we give it during the installation process. With our help, you won't have to worry at all about your flooring project. We've got you covered from start to finish!
Contact us today to purchase our high-quality, low-cost flooring in Chandler. Our store is proud to serve customers in Chandler, Phoenix, Tempe, Gilbert, Ahwatukee, and the surrounding areas.