Tile Flooring in Chandler, AZ
Update the look of your home with new tile flooring from Flooring America of Chandler. We provide you with a fast and affordable way to improve your home's interior. With our tile flooring selection at our showroom in Chandler, AZ, you can add a new, durable surface to your home that perfectly matches your sense of style. From sleek and modern, to rich and classic, we offer a wide selection of tile products that won't disappoint. Whether you're looking for backsplash tile, tiles for your fireplace, floor tiles, or tile for your outdoor space, we have it all and more! We only carry tile flooring from the best brands and manufacturers in the industry, so you know you are getting a top-quality product. These brands include Spotlight Values, Floorcraft, Emser, Mohawk, Daltile, and many more! The best thing about designer tile flooring is that it is crafted in a manner to retain its beautiful appearance for years. Stop by our showroom today to work with one of our flooring experts and get started on your flooring project.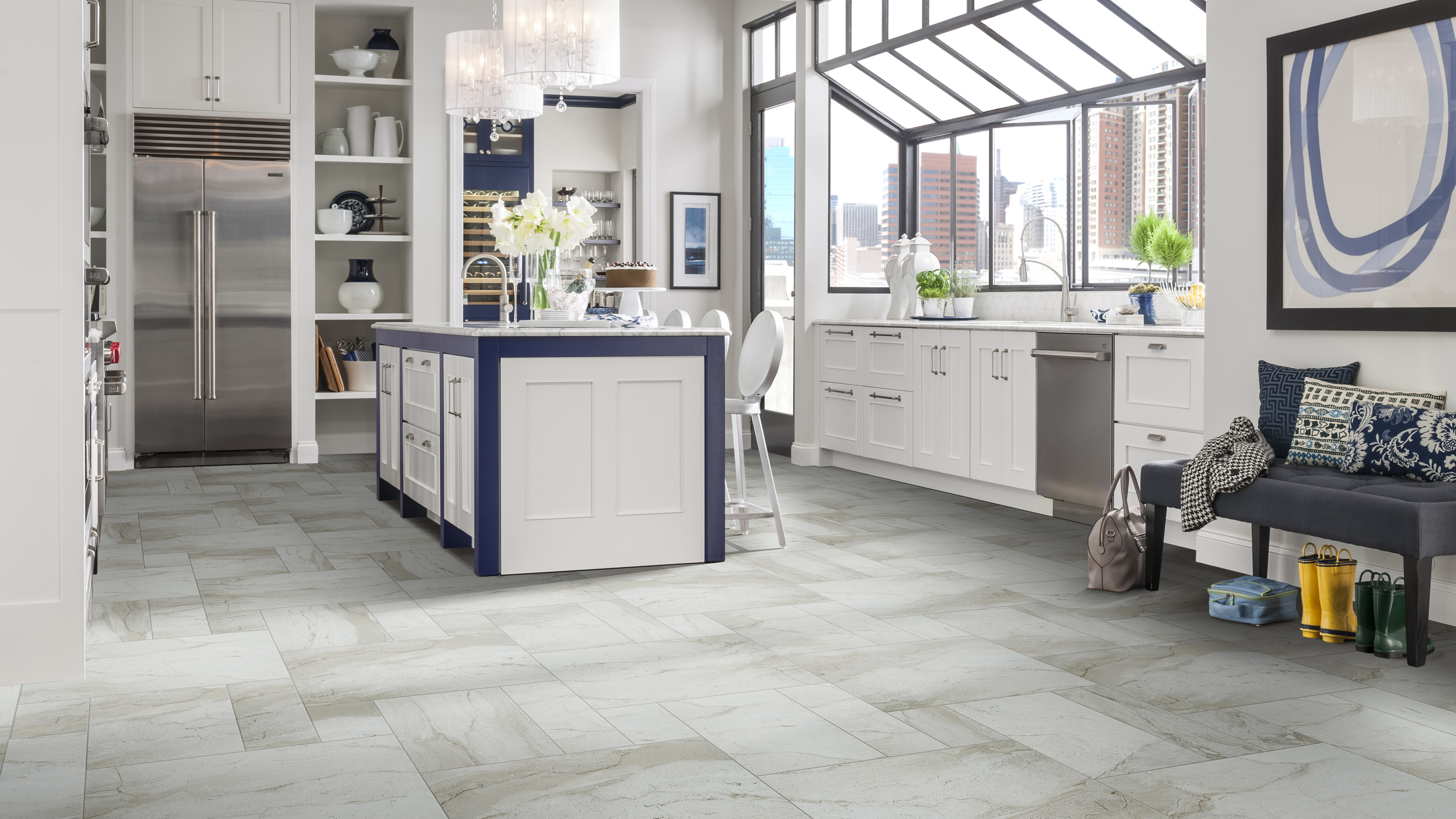 Types of Tile
For flooring that is as resilient as it is stunning, tile flooring is an excellent option. With so many options in our showroom, you will surely find the ideal floors that fit your needs in looks, performance, and price. Our tile has a broad array of design possibilities beyond just flooring. Work with us to find new and exciting patterns for your kitchen backsplash or custom shower. Our tile choices will help you expand your design horizons in ways you never imagined. Learn more about the types of tile we proudly carry:
Ceramic tile

is one of the most popular types for tile flooring and backsplash designs. It is crafted from a heating and cooling process using kiln-fired clay.

Porcelain tile

is made using a method similar to ceramic, but its kiln-fired clay requires a longer heating period, resulting in a denser and more durable tile.

Stone tile

is one of the best tiles for outdoor flooring as it can withstand the natural elements. Our natural stone selection includes marble, limestone, and travertine tiles.

Wood-look tile is an increasingly popular style created with either ceramic or porcelain materials. It is made to mimic hardwood flooring, but it is much stronger and can withstand moisture.
Why Homeowners Choose Tile
Tile has been a valued and sought-after flooring for centuries. This is because of its longevity and quality. Tile has many amazing benefits that have made it one of the homeowner's favorite flooring types, including:
Tile is

extremely resilient

regarding staining and everyday wear and tear, making it perfect for placement in high-traffic areas.

Tile doesn't need much for upkeep because of its durability, making it

easily maintained

.

Tile is very

cost-effective

and can fit into nearly any budget!

Tile is

water-resistant

, which is why it is so popular in moisture-prone rooms.

Tile flooring can help

improve the air quality

in your home since they do not hold onto allergens as other flooring types can.

Installing tiles can also help

improve the value of your home

.
Durable Waterproof Tile
When you think about waterproof flooring, you likely start thinking of tile. After all, one of the tile's best qualities it's waterproof, which lets it be installed below and above ground level. Waterproof floors are stronger and can withstand liquid spills and bigger accidents such as flooding. Since tile can withstand high amounts of moisture, you can rest assured that your new tile floors will not be compromised in moisture-prone areas such as basements, entryways, bathrooms, laundry rooms, and kitchens.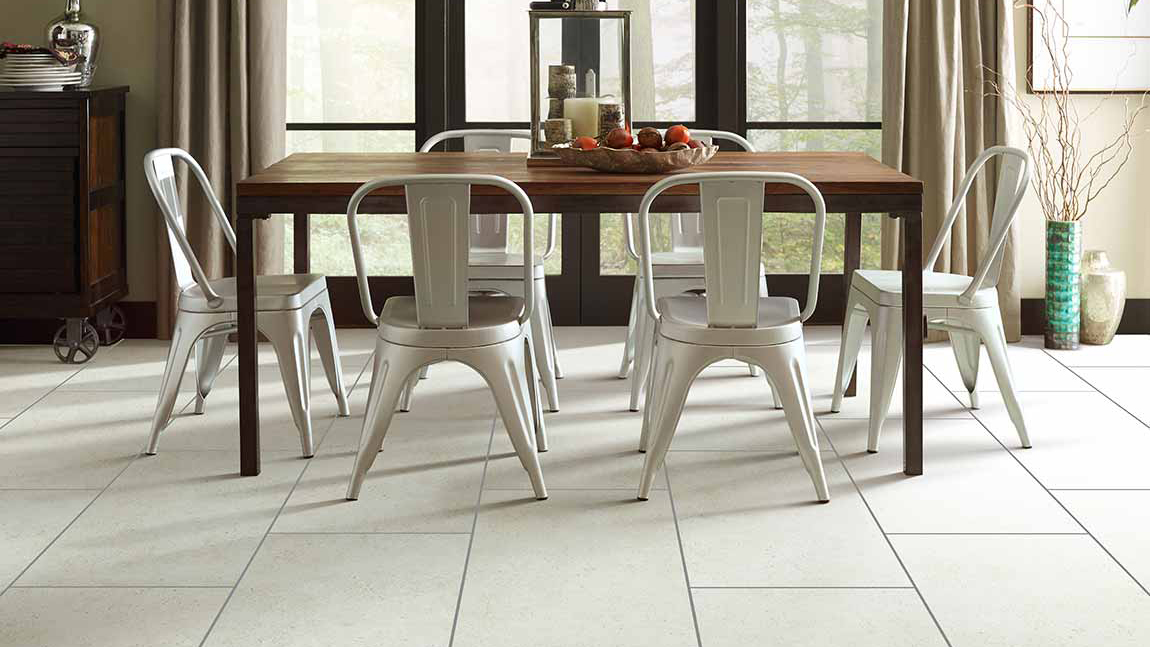 Tile Maintenance
Tile flooring is one of the most durable compared to other flooring types. With proper care, your new tile floors will look new for years to come. Caring for tiles is easy, so you do not have to worry about long-term maintenance. To keep your tile looking pristine, all you have to do is:
Choose a cleaning product that fits your new floor's warranty, keeping in mind if your tile has a glazed finish.

Regularly sweep or vacuum to remove excess dirt and debris.

Mop weekly.
Professional Tile Flooring Installation
Our commitment to helping you doesn't end after you've selected your tile. We offer professional tile flooring installation as a part of our comprehensive flooring services. You invested in beautiful and flawless tile, and no doubt, you want it to look that way from the moment it's laid down in your house. We have all of the mortar, grout, and special tools that are needed to perform complete tile flooring installation. Even though the tile we sell is beautiful and durable, it can be damaged if it is dropped. As such, we carefully handle and place each piece of tile to prevent chips, cracks, and scarring. Your floor has a clean and polished look after the attention to detail we give it during installation. With our help, you won't have to worry at all about your flooring project.

We are so confident that you will be satisfied with your new tile flooring that we offer our Ultimate Confidence Guarantee. This warranty is our promise to you of a quality installation. If you are unhappy with your new floors within 30 days of installation, we will replace them with another product of the same value at no additional cost. We've got you covered from start to finish!


Contact us today to purchase our high-quality, low-cost tile flooring in Chandler. Our store proudly serves customers in Chandler, Phoenix, Tempe, Gilbert, Ahwatukee, and the surrounding areas.