Find Versatile Luxury Vinyl Tile Flooring in Chandler, AZ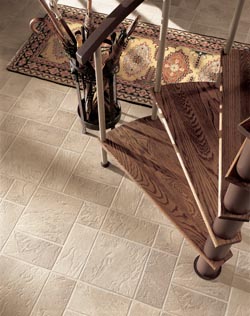 Few home renovations can match the transformative power of new flooring. When you want to make a substantive change to the look and feel of your interior space, the effects that placing a new surface underfoot can have on your décor can't be understated. Breathe new life into your space with an all-new flooring surface.
Here at Flooring America of Chandler, our specialists proudly provide ambitious home and business owners with a myriad of flooring products for projects of all scopes and sizes. Coveted for its tremendous versatility, our luxury vinyl tile flooring in Chandler, AZ, our selections come in a wide variety of colors, patterns, and styles.
Our commitment to our customers doesn't end once they've reached a decision. Once you're satisfied with your selection, our skilled installation crew will ensure your new flooring solution is placed perfectly with our vinyl flooring installation services. All it takes is a single visit to our expansive flooring showroom to discover all of the interior design possibilities that await you.
Choose Our Resilient Luxury Vinyl Tile Floors
Known for more than just versatility, luxury vinyl tile floors easily absorb the impact of dropped items, moving furniture, and the occasional bumps and stumbles from playful children and pets. This effective combination of resiliency and versatility make this material one of the most highly sought flooring choices available today.
Enjoy the Look of Stone or Wood for Less
Our vinyl flooring doesn't only perform incredibly well, especially in areas of heavy foot traffic, but it can also be specially fabricated to mimic the look of several other desirable flooring materials with stunning realism. At our expansive showroom, shoppers can browse our impressive selection of stone-look vinyl flooring and wood-look vinyl flooring and get their desired look at only a fraction of the cost of the real thing. Whether you'd prefer a classic or contemporary look, you are sure to find a choice that's sure to meet your every need.
Your Source for Professional Vinyl Tile Flooring Installation
Simply share your interior aspirations with one of our knowledgeable team members and we'll gladly help you find a selection that exceeds your expectations. You shouldn't leave your installation needs to a lesser qualified team. Thankfully, you don't have to search for an external contractor when you turn to our full-service specialists. Trust your vinyl tile flooring installation needs to our dedicated crew and can rest assured that we'll leave you with a new flooring surface that you can continue to be proud of for years to come.
Contact our specialists to learn more about our vast selection of luxury vinyl tile floors. We proudly serve customers in Chandler, Phoenix, Tempe, Gilbert, and Ahwatukee, Arizona.