Resilient Luxury Vinyl Plank Flooring in Chandler, AZ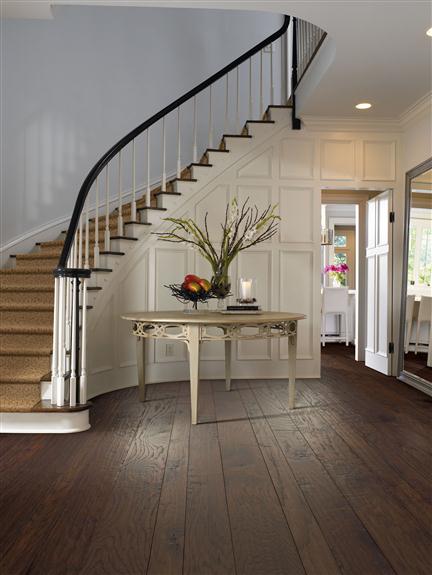 When it is time to redefine your favorite rooms, are you prioritizing strength or visual appeal? Don't make compromises--get both! Transform your home with the help of Flooring America of Chandler. We are your source for luxury vinyl plank flooring in Chandler, AZ. Our team provides the resources you need to attain interiors that are strong and beautiful. With our versatile product selection and homeowner-oriented approach to service, completing your remodeling project has never been easier.
For interior designs which require everyday dependability with a fashionable flair, go for vinyl wood flooring. A subset of "luxury vinyl" flooring types, this material incorporates layers of composite material to create a strong and non-porous surface. Key features of this type of vinyl flooring include:
Durability: Vinyl is well-known for its resilience. As such, this flooring type resists heavy foot traffic, bumps, scrapes, and scratches with ease. It is a good choice for rooms that see much activity, such as the kitchen, bathroom, and common areas.
Ease of Maintenance: Vinyl plank flooring has a water-resistant surface, which means that spills and other liquids won't stain the surface easily. Also, there are no fibers for dirt, dust, and other allergens to hide. Simply use a mild detergent and a cloth or mop to keep your vinyl planks looking like new.
Design Versatility: Now, you can impart a natural, majestic appeal to any room without needing to worry about maintaining hardwood floors. Vinyl planks are available in designs that closely resemble hardwood, right down to the unique grain patterns. Now, you can have the appeal of cherry, oak, or mahogany floors in the kitchen or bathroom.
Find Wood-Look Vinyl Plank Flooring in Our Showroom
Revitalize your interior: we're with you at every step. Our showroom has partnered with well-known manufacturers to offer a wide selection of wood-look vinyl flooring. Also, our team stays up to date with the latest developments in the flooring industry. Simply discuss your remodeling goals with us, and we can make targeted recommendations.
The Hassle-Free Approach to Luxury Vinyl Plank Installation
Luxury vinyl lasts long when it is installed properly. Make your remodeling project a success with our professional installation services. We coordinate with well-trained and experienced installers to facilitate flooring projects.
Professional installation ensures that your flooring looks great and performs well. Save time and energy and get your project on the right track. Whether you are re-flooring a single room or your entire home, we'll handle the installation for you. Discuss your project with our experts and get the floors you've always wanted for your home.
Contact us to request a consultation for luxury vinyl plank flooring. Our showroom proudly serves property owners throughout Chandler, AZ, including Phoenix, Tempe, Gilbert, Ahwatukee, and the surrounding communities.