Luxury Vinyl Flooring in Chandler, AZ
Improve the beauty, resiliency, and value of your home with luxury vinyl flooring at Flooring America of Chandler. We are your dependable destination for luxury vinyl flooring products and professional installations in Chandler, AZ. We proudly serve clients upgrading their homes, commercial spaces, and more With our wide-ranging product selection, personalized customer service, and professional installation solutions, attaining picture-perfect spaces is a hassle-free experience. Visit our Chandler, Arizona, showroom today to browse our luxury vinyl flooring products and start your renovation!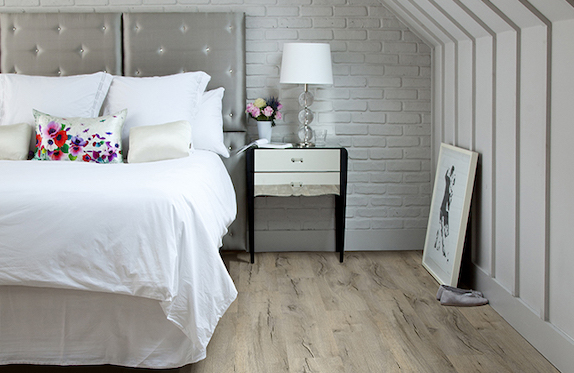 Find the Ideal Type of Luxury Vinyl Flooring
Whether you are planning to re-floor a single room or your entire property, we're here to make your project a success. Our Chandler showroom features samples of luxury vinyl tile and plank flooring from the leading vinyl brands including Core Elements, Downs, Spotlight, and more. Here, you may browse our catalog, view samples of our flooring, and order your favorites. Best of all, our friendly and knowledgeable showroom associates will work with you to find the right materials that will meet your needs. Discover the types of luxury vinyl flooring available at our local flooring store:
Luxury Vinyl Plank LVP
All vinyl is composed of four resilient layers, including a waterproof back layer, a sturdy engineered core, a stunning image layer, and a protective seal. When you choose luxury vinyl planks, you'll enjoy a realistic wood look with added performance benefits. Our luxury vinyl plank floors come in a variety of wood species, sizes, grains, tones, and even textures to match your desired interior. Find a bright white oak, classic Mahogany, or the soft tones of pine to increase the value of your home. Best of all, you can finally install a wood look in your bathrooms, kitchens, and basements without worry of warping due to moisture.
Luxury Vinyl Tile LVT
Luxury vinyl tile is composed with the same resilient four layers as LVP, but offers the sought-after looks of ceramic, porcelain, or natural stone tiles. This type of flooring is popular in bathrooms and kitchens not only for its eye-cathing design, but also for its worry-free durability. Find a variety of colors, patterns, and textures to upgrade your style—at a fraction of the cost!
Sheet Vinyl Flooring
If your looking for maximum durability, consider opting for sheet vinyl flooring. This 100% waterproof flooring is cut from one continuous piece of vinyl to fit the exact dimensions of your space. This seamless design is easy to clean and performs exceptionally well in active areas of your home. Popular in laundry rooms, basements, and commercial spaces, you can choose from a variety of lovely designs.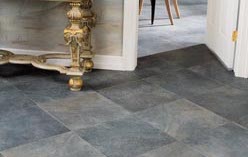 How to Choose the Best Luxury Vinyl Floors
At Flooring America of Chandler, we understand our customers' need for a stress-free shopping experience. That is why we help you every step of the way. When you visit our Chandler showroom, we'll ask you about your current space, your design goals and preferences, your lifestyle, and your performance needs. This allows us to guide you toward the best-fit luxury vinyl products for your unique project. Rest assured your lasting success is our number one priority. That's how we became Maricopa County's leading flooring store!
The Luxury Vinyl Flooring Advantage
Luxury vinyl flooring, also known as LVT or LVP, has grown in popularity amongst homeowners and business owners alike. It is a resilient flooring material that can accommodate a variety of interior design motifs well. Combining strength and beauty, this category of flooring can go well in virtually any room—from kitchens and bathrooms to common areas and bedrooms. There are many advantages to choosing this luxury vinyl flooring including the following:
Lasting Durability
LVT and LVP are made with composite materials, giving them a sturdy composition that stands up well against daily wear and tear. It holds up against foot traffic, bumps, scrapes, impacts, and scratches. This makes luxury vinyl a smart choice for any room of your Arizona home.
Ease of Maintenance
Luxury vinyl flooring is a solid surface flooring. Water, dirt, and dust have a hard time causing stains on this material, which makes it easy to clean and maintain. With luxury vinyl floors, you will spend less time and energy cleaning up: a perfect characteristic to consider if you have an active home with children or pets.
Design Flexibility
Luxury vinyl is available in many different colors, patterns, and designs. It also successfully mimics the appearance and texture of materials like solid hardwood and ceramic. Materials like LVP and LVT floors provide the flexibility to infuse natural beauty in rooms like the basement or bathroom while keeping project costs sensible.
Luxury Vinyl Flooring Installation with Our Chandler Contractors
The strength and beauty of your new flooring depend on a successful installation. Let our experienced team do all of the hard work for you. Our showroom facilitates luxury vinyl tile and plank installation with our local Chandler contractors. Our trained and experienced installers complete re-flooring projects of virtually any size and scope. We also remove the old flooring from your project space and utilize the right equipment and methods when placing your new flooring.
Our commitment to your success is proven in our Adore Your Floor Guarantee. Should you be dissatisfied with your flooring installation, contact us within 30 days and we will make it right at our own expense. When we are done, you'll enjoy an entirely transformed space for many years to come!

Contact us to learn more about our luxury vinyl flooring options. We serve homeowners and business owners throughout Chandler, AZ, as well as Phoenix, Tempe, Gilbert, Ahwatukee, Arizona, and the surrounding areas.