Kitchen Countertops in Baton Rouge, LA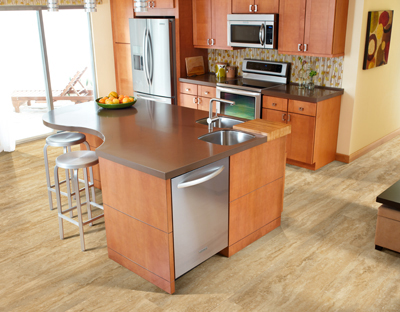 Are the counters in your kitchen worn out, chipped, or faded? Don't let old and outdated surfaces detract from your space. If you are unhappy with the appearance or performance of your kitchen counters, shop our stunning collection of kitchen countertops. Our local business provides services and selections that make it easy to achieve the kitchen of your dreams. From the floors to the countertops, and even the backsplash, you can depend on us to deliver the comprehensive design you desire.
We're committed to providing outstanding service and a wide selection of quality countertops at reasonable prices, both in store and online. We offer in-home service and are experienced in the commercial area as well, so we're a convenient and affordable choice for all of your remodeling projects.
Whether you simply wish to replace your kitchen counters or kitchen island countertop, or are interested in a complete kitchen makeover, you can entrust the job to the experts on our team. We offer unparalleled guidance throughout every step of the project, ensuring you are more than happy with your investment. In addition to providing luxury countertops for the kitchen, we also offer options that are ideal for placement in the bathroom, such as stone, quartz, marble, and granite countertops. If you're not sure which type of counter you'd like, take home one of our samples and see how it looks.
With so many different materials now on the market, choosing the right solution for your home can be a challenge. Our local store can turn an overwhelming shopping experience into an easy and enjoyable one. As soon as you walk in the door of our showroom, our mission is to ensure that you make a confident purchase in a timely manner and to assist you with every part of the process. Here are some of the factors we take into account when helping you select the right countertop:
The Location of Your New Countertops
Your Current Home Décor
Your Budget
The Type of Material You Want
Your Timetable for Completion
Many Types of Stone Countertops
Have fun mixing and matching while shopping our unbeatable selection of different countertop materials. Many homeowners prefer to select a tried-and-true material like granite. Granite kitchen countertops come in an array of unique hues, patterns, and sizes, making them ideal for almost every design aesthetic. Each slab is customized to the dimensions of your kitchen or kitchen island, allowing you to take advantage of a range of different undermount sink options. Another great option is marble countertops, which are a classic favorite that have withstood the test of time and are naturally heat resistant.
Quartz countertops are increasingly popular for our budget-conscious customers. Made from a combination of natural quartz and durable resin, pigment can be added during the manufacturing process to achieve the ideal shade you have in mind. They can even be designed to resemble marble. In addition to their versatile appearance, these countertops are also flexible. This makes them less likely to chip or dent over their lifetime, and they're easy to care for. Just wipe up messes with a damp cloth, avoid abrasive cleaners, and that's it.
Stone countertops have a rich look that can match your home décor, last a long time, and raise the value of your property. You'll get great appearance and performance at a great price. Stone is extremely heat resistant, so you won't have to worry about leaving a scorch mark if you put a hot pan on it. Because the material doesn't absorb liquids, cleaning it is a breeze, making it the perfect choice for families.
Kitchen Countertop Installation You Can Count On
Once you've chosen the right counters for your kitchen or bathroom, allow us to schedule the installation on your behalf. We understand how busy our clients' schedules are, so we work around your lifestyle to schedule kitchen countertop installation at the most convenient time possible. When you choose us, you choose a careful, professional, and thorough installation crew that doesn't cut corners. Before we even get started, we take detailed and accurate measurements of your kitchen to be sure you're getting exactly what you need. You'll never have to worry about not having enough material or spending money on too much.
The skilled team sent to your home arrives ready to perform the installation in a single visit. Our kitchen countertop contractor gets the job done right the first time around, ensuring you are more than satisfied with the new and improved countertops. It's no wonder that home and business owners come to us when we work around your time, budget, and interior design. You can rest assured that we always clean up our mess when we're done and treat your home like we would treat our own.

Contact us so you can begin cooking in the kitchen of your dreams. We're proud to remodel kitchens in Baton Rouge, Denham Springs, Brusly, Port Allen, and New Roads, Louisiana, and the surrounding communities.