Besides being a full service Chandler flooring store, we also offer slab countertops.
We offer a wide variety of countertops. Our in store design experts will assist you in determining the right countertop for your home.
We have access to all colors/styles of granite slabs & Quartz countertops. We have several samples to show you in our showroom. We will bring out your top choices, measure & give you a free estimate.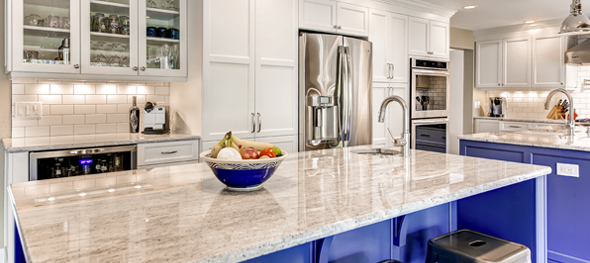 Granite Countertops – You simply can't go wrong by choosing to place classic granite countertops in the kitchen or bathroom. Its timeless appearance and guaranteed value makes it a wise investment for even the choosiest of homeowners. It remains easy to clean, and is available in countless colors and finishes.
Quartz Countertops – Quartz is a popular alternative to granite. Made from a combination of quartz, resins, polymers, and pigments, quartz countertops offer a granite-like appearance, along with proven durability. The controlled manufacturing process allows us to control the hue, pattern, and color of the surface.
Marble Countertops – No two pieces of marble are alike, making it a unique addition to any space. Available in varying patterns and hues, there is no style or scheme that can't be enhanced by one of the high-end marble countertops from our selection.