As we enter the brightest of seasons, infuse your home with color using the interior design tips and inspiration provided in the pages of our 2021 Summer Issue of Design at Home. Within these pages, you get the inside scoop on trending styles, colors, and decor, from exclusive designer interviews to tips on styling your outdoor spaces to behind the design of a lovely lake home. Whether you're hoping to saturate your areas with sunny, rich hues or looking to stick to a natural muted palette, we have the design insight you need to get started. Here's a sneak peek at the brilliant articles that are awaiting you inside this issue of Design at Home:
7 Quick Tips for Outdoor Design
Dive into the best design ideas to create your outdoor oasis in a simple seven-step article. Chock full of tips and advice to make the most of your outdoor space, we detail how to add focal points, use lighting to direct your mood, and bring a fresh feel to your outdoor patio.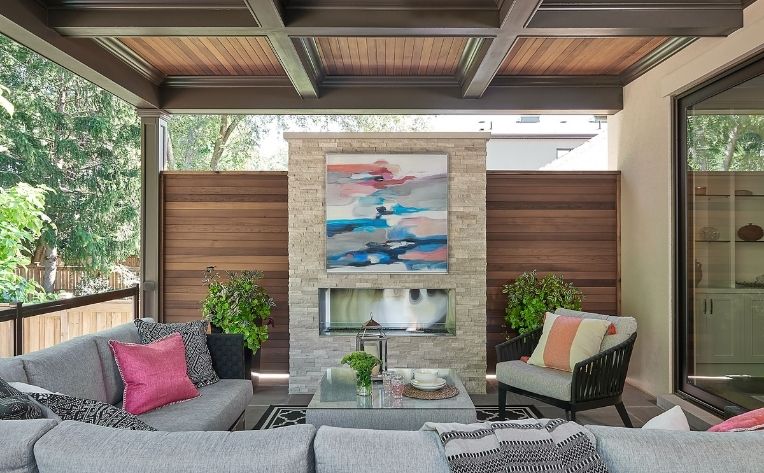 Design by Kate Davidson, Photography by Stephani Buchman
Interior Inspiration: Calling All Colors
In this eight-page spread, we gathered our favorite trending colors of the season and show you how you can incorporate them into your home design. Color can be tricky business, which is why we showcase gorgeous room scenes that use simple, low-commitment color solutions to refresh their space.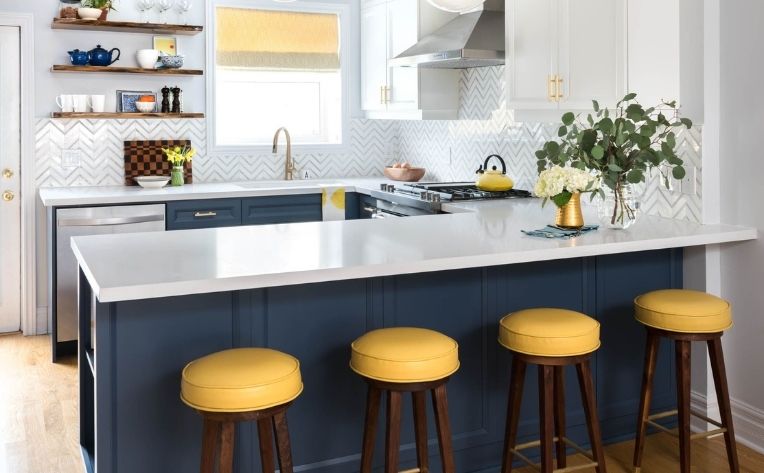 Design by Rebecca Hay, Photography by Stephani Buchman
Styles We Love: Infusing Summer into Your Design
Three styles have stolen our hearts this summer: Modern Mediterranean, Cozy Cottagecore, and Outdoor Oasis. With new flooring, décor, furniture, and lighting, you can effortlessly incorporate these beautifully natural designs into your home. Check out some of our best pieces from each collection and put together a look you'll adore, whether you go all-in on one of our exclusive styles or mix and match a few elements.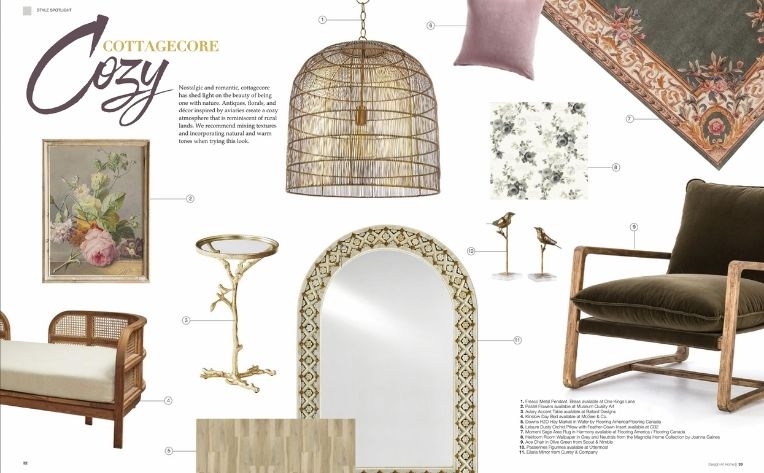 Striking the Perfect Balance: Trendy Tile Colors Paired with Neutrals
As the strongest, most durable hard surface solution out there, tile is a popular choice for many homeowners. We'll explain how you can blend tile colors with the existing natural neutral tones of your home, giving you the best balance of color and tranquil ambiance that's necessary to design a refreshing summer home.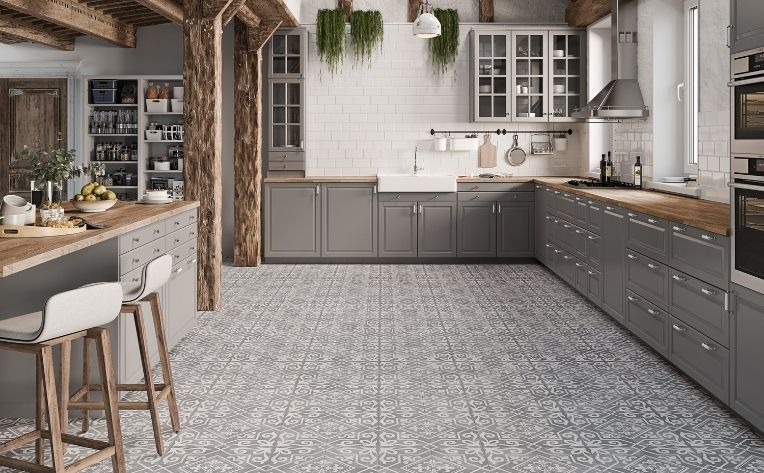 Nostalgia in Saga by Emser Tile
Reset, Refresh with a Splash of Color
In this area rug feature, we discuss the benefits of adding an area rug to your space and make suggestions on the best colors for styling. This summer, we're obsessed with blues, golds, bright botanical elements, and elegant stone-inspired hues. Learn how to style your area rugs and delve into our top products from trusted brands at Flooring America.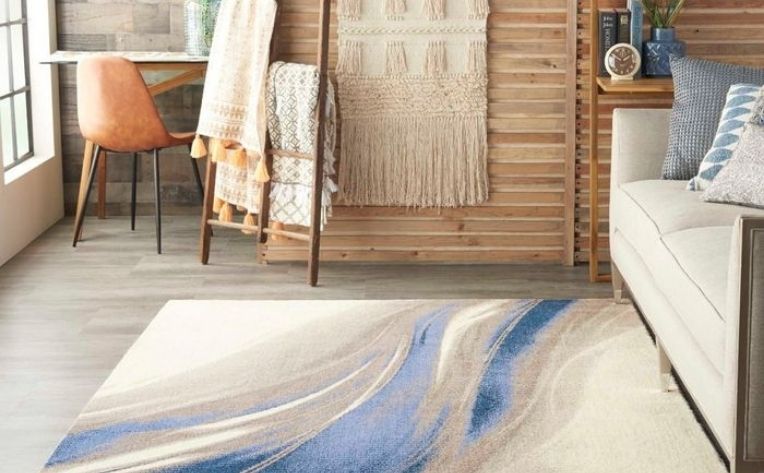 Twilight Collection in Ivory Grey Blue by Nourison
Designer Q&A: Urban to Suburban with Korina Khamas and Eugenia Triandos of Hibou Design & Co.
Explore a stunning transformation in this Q&A with Hibou Design. Eugenia and Korina walk us through their approach to a home renovation and talk about drawing on inspiration from natural elements to create a unified design.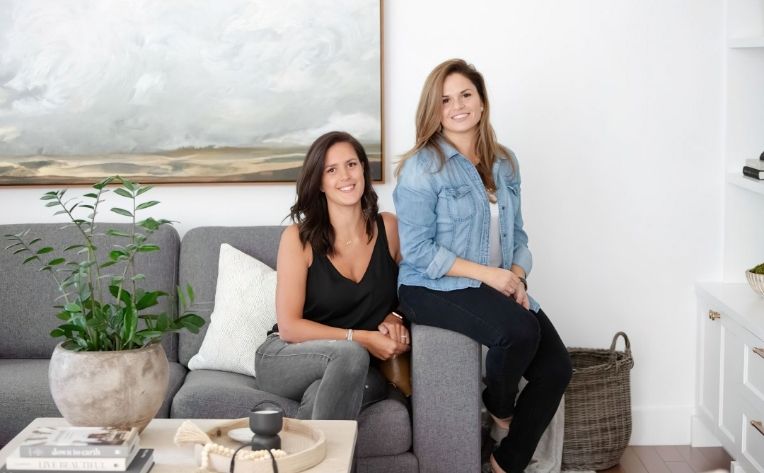 Design by Hibou Design + Co, Photography by Drew Hadley
Designing in a Sea of Blue
Written by Louis Duncan-He
As a brilliant designer, Louis Duncan-He breaks down how the color blue —which has become a staple hue for so many designs —can work with mixed metals and other household elements. In this piece, Duncan-He discusses the importance of variety, building a color story, and how to bridge your many shades of blue.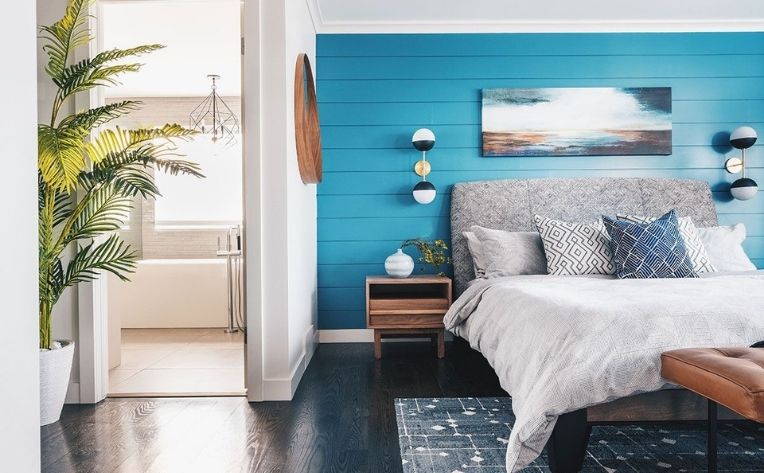 Design and Photography by Louis Duncan-He
Behind the Design: A Casual Lake Home Getaway
Written by Kate O'Hara
Delve into a stunning lake house designed by Kate O'Hara of Martha O'Hara Interiors. Featuring bright dining spaces both inside and out, unusual bunk space in the guest room, and a surprisingly bold kitchen color, the architecture of this home will make you long for lazy trips to the lake. O'Hara will walk you through her design ideas and challenges to reveal how she created a sanctuary dedicated to lake life.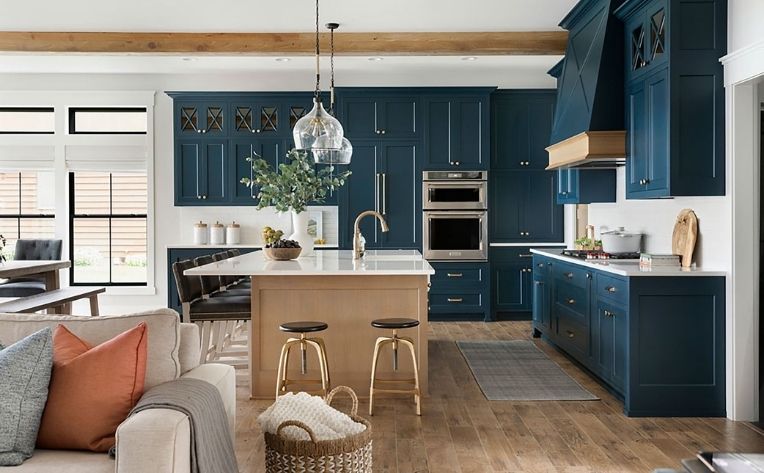 Design by Martha O'Hara Interiors, Photography by Spacecrafting Photography
Style Watch
We are the flooring specialists at Flooring America, and we've compiled a list of the top 10 flooring trends for 2021. Our Style Watch collection of flooring solutions, including carpet, luxury vinyl, tile, and more, takes the guesswork out of choosing a floor that complements this year's top trends, features, and technologies.